We are excited to announce the addition of 8 new cities to our PSB Family this 2021 (Fall/Winter) and 2022 season!
Effective immediately, but with a focus on 2022 Club Team Tryouts, we are opening PSB Chicago (IL), PSB Indianapolis (IN), PSB Miami (FL), PSB Orlando (FL), PSB San Diego (CA).
Our mission is to change the culture of youth basketball, and we do this by expanding our professional youth basketball experience for players, parents, and coaches across the US.
The PSB professional experience focuses on comprehensive player development, certified and positive coaches, and organized parent communication, and we're excited to bring these benefits to the youth basketball communities listed below.
Check out our "5 Things We Look for in a Youth Basketball Leader" podcast episode!
PSB Chicago (IL)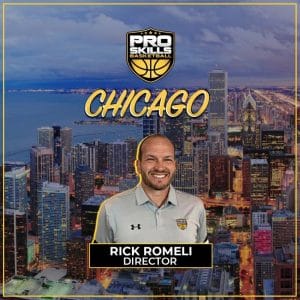 Pro Skills Chicago will be led by Director Rick Romeli and will be located in the greater Chicago area!
Rick attended Marian Catholic High School in Chicago Heights, IL. He then went on to attend Saint Xavier University in Chicago, IL where he was a two sport athlete, playing four seasons (2001-2005) of basketball and two seasons of baseball (2002-2003).
Rick was part of 3 basketball teams that reached the NAIA National Tournament. During his senior season at SXU the team won a school record 30 games and advanced to the Elite Eight of the NAIA DI National Tournament. Following the season, he was named to the All CCAC 1st team and an Honorable Mention NAIA All-American. In 2013, Rick was inducted in to the Saint Xavier Athletics Hall of Fame.
Upon graduation, Rick began his college coaching career at Saint Xavier University as an Assistant Coach. During the nine seasons (2005-14), SXU teams amassed a 211-139 record, clinched a pair of CCAC Tournament championships and qualified for five NAIA National Tournaments. Currently, Rick is the Associate Head Coach (2014- Present) at Governors State University in University Park, IL.Rick and his wife Veronica have a son, Ricky and daughter, Arielle, and reside in Palos Heights.
Follow PSB Chicago on Instagram!Follow PSB Chicago on Facebook!
PSB Indianapolis (IN)
Pro Skills Indianapolis will be led by Director Pete Campbell and will be located in the greater Indianapolis areas! Pete attended Yorktown High School in Yorktown, IN where he finished as the 2nd all time leading scorer, and holds the free throw percentage record for a season. He continued playing after high school at Butler University in Indianapolis, IN. Pete finished his career as the most accurate 3 point shooter in Butler Basketball history (48.2%). He played in 5 NCAA tournament games, earning player of the game in 3 of the 5 contests.
Following college, Pete played professional basketball overseas for 6 years. The majority of that time was spent in Germany, but he also played in the NBA G-League, New Zealand, and Switzerland.
Following his playing career, Pete has spent 8 years training and coaching youth, high school, and AAU basketball.
Pete and his lovely wife Adriane reside in Noblesville, IN where they raise their two wonderful daughters Stella 4, and Saylor 2 months.
Check out our Youth Hoops Pod episode with Pete Campbell.
"5 Things I Learned Playing for Brad Stevens at Butler"
Follow PSB Indianapolis on Instagram!
Follow PSB Indianapolis on Facebook!
PSB Miami (FL)
Pro Skills Miami will be led by Director Harrison Singer and will be located in the greater Miami areas!Coach Harrison Singer has a wealth of coaching experience at both the high school and college level. He has spent the past eighteen years working at the college level at multiple DI, DII, DIII and NAIA colleges and universities. Coach Singer was born and raised in Philadelphia and spent the last three years working at St. Thomas University in Miami Florida, as the Head Coach for the Bobcats Men's Basketball Developmental Team and lead recruiter for the program. Singer recruited one of the strongest classes in STU MBB history, advancing to back to back championship games with the mentorship of standout DI transfers Ahmad Gilbert from the University of Minnesoda, Justin Brown from UNC Wilmington and Defensive Player Of The Year, Jahsim Floyd from St. Francis University. While at STU, Singer completed a Masters Degree in Sports Administration. Coach Singer currently resides in South Beach with his fiancée who works in Special Education and they love to bike, fish, tennis, hoops and cook together!!! Follow PSB Miami on Instagram!Follow PSB Miami on Facebook!
PSB Orlando (FL)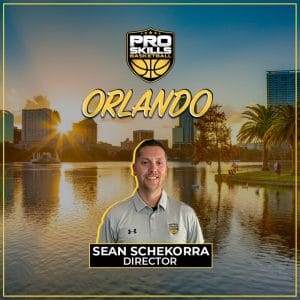 Pro Skills Orlando will be led by Director Sean Schekorra and will be located in the greater Orlando areas!Sean attended Admiral Farragut Academy and Osceola High School in St. Petersburg, FL., where he was a standout athlete in Basketball, Football, and Track & Field. After High School, Sean went on to earn a Bachelor of Sports Science from the United States Sports Academy. Upon graduation from USSA, he continued his education at West Virginia University to earn a Master of Science in Sports Coaching and Georgetown University to earn a Master of Professional Studies in Sports Management.
Sean has extensive experience in coaching which stems from coaching High School Varsity Basketball at Admiral Farragut Academy and Post Graduate Basketball at Impact Basketball Academy in Sarasota, FL.
At Impact Basketball Academy, Sean was the Head Coach and Director of Player Development for the Men's Post Graduate Basketball Program. In addition, Sean helped train NBA Draftees at Impact Basketball's NBA Pre-Draft Combine and also facilitated on court workouts with numerous NBA and oversea basketball players.Sean and his family recently moved to Deltona, FL where he will continue to coach at a local basketball program. Follow PSB Orlando on Instagram!Follow PSB Orlando on Facebook!
PSB San Diego (CA)
Pro Skills San Diego will be led by Director Dan Decker and will be located in the greater San Diego areas!
Dan is a 1,000-point scorer at the high school and collegiate level. During his high school career, he was named All-Conference to the 3rd team of the Greater Middlesex Conference alongside current NBA players such as Karl Anthony-Towns.
As a college athlete Dan attended Clarks Summit University in Clarks Summit Pennsylvania. Dan was a two-time All-Region player for the NCCAA. He finished top five in 3-pt FG% in NCAA D3 during his freshman year finishing with a 48.6% percentage.
Dan graduated with a Bachelors degree in Early Childhood Education from Clarks Summit University and a Masters Degree in Business Leadership from Madonna University.
Dan has served as an Athletic Director of NYSPHSAA Basketball State Champions Mekeel Christian Academy in 2017-2018, and has served as an assistant coach for Conference Champions Madonna University in 2019-2020 prior to becoming a director for Pro Skills Basketball San Diego.
Check out our podcast episode with Dan below!
"Top 3 Skills Youth Players Should Work On with Dan Decker"Follow PSB San Diego on Instagram!Follow PSB San Diego on Facebook!
Conclusion
We have a really incredible group of youth basketball leaders opening these PSB branches in their respective cities, so we couldn't be more excited for what's in store!
Adding these 8 new cities now means our organization is in 22 cities across the nation!
Atlanta
Charleston
Charlotte
Chicago
Columbus
Denver
DMV
Houston
Indianapolis
Kansas City
Miami
Nashville
New York
Orlando
Philadelphia
Pittsburgh
Raleigh
Richmond
San Diego
St. Louis
Tampa
Winston-Salem
Please follow us on the social media channels above and stay tuned for big things to come!
To learn more about Pro Skills Basketball as a national organization please visit our website and follow us on Instagram, Facebook, and Twitter!