In 2022, PSB will have Club Teams in 19 cities around the US!
Tryouts for these teams will take place in February and March depending upon the city, which include:
If tryout registration is not live in your city yet, they will be soon! If tryouts are live, you can sign up now to take advantage of our Early Bird Discount!
If tryouts are not yet available, please continue to check back as they'll be available soon!
IMPROVEMENTS FOR 2022 SEASON
We are making 5 major improvements to our teams for the 2022 Club Team season, including:
#1 More efficient player development & more competitive teams!
Last year, due to COVID safety, we chose not to have returning players tryout as they did in all years past, but in 2022, ALL players will once again be required to tryout. This will allow PSB to place players with the optimal skill level of team for each player which ultimately produces more efficient player development and more competitive teams!
#2 Upgraded team curriculum!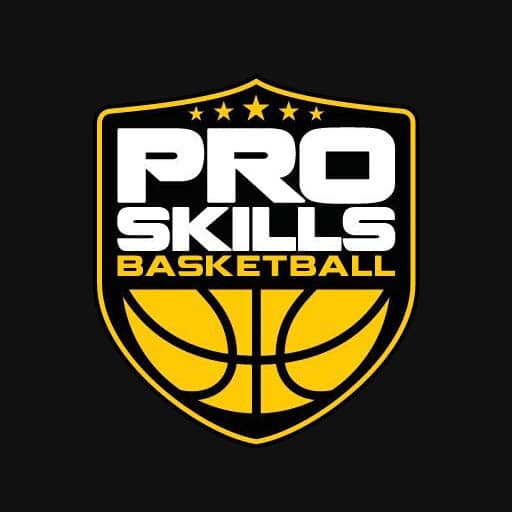 Nationwide, all PSB coaches will be using the MOJO app, which will deliver PSB's updated standardized team curriculum that is optimized for age and skill level. The MOJO app empowers young athletes everywhere and makes sports more fun for everyone – one kid, one coach, one family, one team at a time.
#3 HonestGame for HS players! Over the past couple of years, our high school players have gotten access to SportsRecruits with their team memberships. This year, high school players will not only get SportsRecruits but also HonestGame, a platform that makes navigating NCAA academic eligibility to college sports simple by empowering student-athletes with a plan that provides guidance on the classes, grades, and test scores they need to meet NCAA academic eligibility status.
#4 Additional optional opportunities for improvement! We often get requests for extra work and more coaching in certain areas, so this year we have partnered with leading experts to offer PSB players exclusive discounts for additional optional opportunities, including:
Personal Coaching/Recruiting Advisement for HS Players from Coach Paul Biancardi, a 20+ year college coach and currently ESPN's National Director of Boy's High School Basketball.
Nutrition Coaching from Fueling U's Rachel Pfister, a registered dietician who previously worked in the sports and football departments at LSU, Alabama, and Tennessee.
Mental Performance Coaching from Well Performance, a company founded by Stu Singer who has worked as the sports psychology and performance consultant for the NBA's Washington Wizards, the WNBA's 2019 World Champion Washington Mystics, University of Maryland Women's Basketball team, Rice University Basketball, and the Connecticut Sun among others.
Virtual Skills Training from select PSB Trainers so that players don't even have to leave their house to be trained by some of the top trainers in the US.
London Basketball & Cultural Tour in partnership with BTM Basketball, a company that specializes in international basketball tours, will offer PSB players high-level games against UK opposition, team practice sessions, and cultural & leisure activities.
#5 Quicker & Better Uniform & Gear Process! We have invested in a new uniform and gear process that will A) make the shipping time much quicker and B) make the ordering process better. Uniforms & gear will arrive within 1-2 weeks from time of order placement. Players will also be able to choose from a list of available jersey numbers.
WHAT SEPARATES PSB FROM OTHER CLUBS?
AAU Basketball is often disorganized, focused solely on winning, and generally, frustrating, but at Pro Skills Basketball, our Club Teams provide a more professionalbasketball experience for parents, players and coaches – one focused on organized communication, fun, mutual respect, and personal growth – on and off the court.
Our Club Teams are instructed by trained & certified coaches who, through our comprehensive player development program and F.O.C.U.S. core values, prepare players for the next level of their basketball careers while also teaching them life lessons that will lead to success off the court as well. Simply put, we teach kids Skills for Basketball. Life. Success.
Let's take a deeper look …
#1 Comprehensive Development:
We offer all of our players Team Games and Practices throughout the season. All PSB players have optional Camps and Clinics throughout the year that they can attend. We provide optional skill workouts from our PSB coaches on select dates.
For our players who are receiving interest from colleges, we provide college recruiting guidance along their journey. Lastly, we teach all of our players our F.O.C.U.S. Life Lessons.
#2 Trained & Certified Coaches:
All of our PSB coaches have
prior experience in basketball and are knowledgeable on the X's and O's of the game. Our coaches are all background checked and are First Aid & Child Safety Trained. Our organization personally trains and certifies each one of our coaches before they coach a team. Lastly, each one of our coaches is USA Basketball Licensed.
#3 Organized Parent Communication:
We offer full-time support staff that is available for our parents to reach out to with any questions or concerns. Our support staff answers all emails and phone calls within our work hours, if a call or email comes in after work hours it will be responded to first thing the next workday.
We have organized parent conferences to set all expectations for our parents on the front end. We provide a detailed team handbook to all of our team's parents.
Lastly, we provide helpful tech tools and platforms to help aid our parents throughout the season.
OUR CITY LEADERSHIP
PSB Atlanta will be led by Director Jonathan Mosley.
Jonathan attended Cardinal Ritter College Prep High School in St. Louis, MO. He then went on to attend Alabama A&M University (AAMU) in Huntsville, AL where he was a scout team member of the basketball team as a freshman, and later, transitioned into a student assistant coach.
After college, Jonathan moved to Atlanta and immediately immersed himself into the local basketball scene becoming a varsity assistant coach for the St. Pius X High School and coaching AAU.
Jonathan and his lovely wife currently reside in Lawrenceville, GA where they both serve in leadership capacities with the federal and county governments.
PSB Charleston will be led by Director Blake Hall.
Blake Hall is a native of Charleston, South Carolina, where he graduated from Pinewood Preparatory School. Hall went on to play collegiately, finishing his career at Coker College.
Following college he went on to play professionally in Europe. His career ended playing in the Slovenian First League amongst several future NBA players, most notably current NBA All-Star and guard for the Miami Heat, Goran Dragic.
Currently, Hall is in his ninth season as Head Coach of Goose Creek High School, in Goose Creek, South Carolina. Blake resides in Mount Pleasant, SC with his wife Stephanie. They are avid animal-lovers who have two adopted fur babies named Rocco and Shia.
PSB Charlotte will be led by Director Chris Goodrum and General Manager Jason Snow.
Chris grew up in Pinehurst, NC and attended college at Appalachian St. where he studied Child Psychology and Business. After college, Chris began a 19-year career at the Charlotte YMCA and started coaching basketball at the middle school and AAU levels. He lives right outside of Charlotte with his wife, Brook, and 2 kids, Keegan and Tatum.
Jason grew up in Canton, OH and went on to play basketball at 2 junior colleges before ending up at Mercyhurst in Pennsylvania. After school, Jason played one year professionally in Mexico. Jason moved to Charlotte in 2015 and immediately began coaching with PSB. He lives in Huntersville with his wife Sara.
Pro Skills Chicago will be led by Director Rick Romeli and will be located in the greater Chicago area!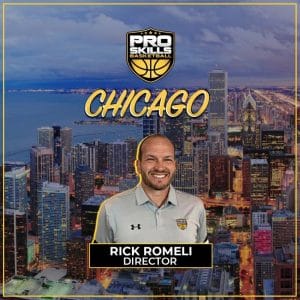 Rick attended Marian Catholic High School in Chicago Heights, IL. He then went on to attend Saint Xavier University in Chicago, IL where he was a two sport athlete, playing four seasons (2001-2005) of basketball and two seasons of baseball (2002-2003).
Rick was part of 3 basketball teams that reached the NAIA National Tournament. During his senior season at SXU the team won a school record 30 games and advanced to the Elite Eight of the NAIA DI National Tournament. Following the season, he was named to the All CCAC 1st team and an Honorable Mention NAIA All-American. In 2013, Rick was inducted in to the Saint Xavier Athletics Hall of Fame.
Upon graduation, Rick began his college coaching career at Saint Xavier University as an Assistant Coach. During the nine seasons (2005-14), SXU teams amassed a 211-139 record, clinched a pair of CCAC Tournament championships and qualified for five NAIA National Tournaments. Currently, Rick is the Associate Head Coach (2014- Present) at Governors State University in University Park, IL.Rick and his wife Veronica have a son, Ricky and daughter, Arielle, and reside in Palos Heights.
Follow PSB Chicago on Instagram!Follow PSB Chicago on Facebook!
PSB Columbus will be led by Director Paul O'Connor.
Paul O'Connor, a Trumbull, Connecticut native, attended Trumbull High School. Paul pursued his passion for coaching immediately in college by working with the Ohio University Men's Basketball team as a manager and video coordinator
After graduating he went on to coach at Central Connecticut State University and Kennesaw State University before moving into his current role as the Director of Business Development for Kids in the Game.
Paul currently resides in Columbus, Ohio with his wife Katherine.
PSB Denver will be led by Director Ross Schraeder and General Managers Alex Schnaidt and Meredith Marsh.
Ross grew up in Denver, CO and went on to play college basketball at UC Irvine. After college, Ross played 6 years professionally overseas in Spain. Upon retiring, Ross joined PSB in Charlotte, NC before bringing it back to home to Denver, CO in 2013.
Alex grew up in Aurora, CO and went on to play college basketball at Western State University. After college, Alex moved back to Denver and began coaching at various high schools. He joined PSB in 2016 and is an integral part of our program.
Merideth grew up in Louisville, KY and went on to play college basketball at Vanderbilt University and professionally in Europe. After graduating, Merideth began coaching in high school and then went on to coach in college. After getting out of college coaching, Merideth became a crossfit trainer and gym manager before moving to Denver, CO and joining PSB.
PSB DMV will be led by Director Patrick O'Connor.
Patrick O'Connor grew up in Richmond, Virginia where he attended Douglas Freeman High School. After graduating from Douglas Freeman, Patrick studied Business Administration and Education Policy while also playing Basketball at Washington and Lee University.
Patrick is entering his sixth year as an educator in Washington DC. Outside of teaching and coaching at SJC, Patrick is the director of DMV 3v3 Basketball, a youth 3v3 basketball league in DC, Maryland, and Virginia.
Patrick comes from a family of six boys. His mother, Suzy, is a first-grade teacher in Richmond and his father, John, is a sports journalist for the Richmond Times-Dispatch.
PSB Houston will be led by Director Brandon Christy.
Brandon is from Illinois and was a 5-sport athlete in high school. He then continued his playing career at Wabash Valley before transferring to SIU- Carbondale.
Upon graduation, Brandon started his teaching and coaching career in Illinois before moving to Houston in 2015. Brandon currently teaches PE and is the assistant girls varsity basketball coach at The Village School.
Pro Skills Indianapolis will be led by Director Pete Campbell and will be located in the greater Indianapolis areas!
Pete attended Yorktown High School in Yorktown, IN where he finished as the 2nd all time leading scorer, and holds the free throw percentage record for a season. He continued playing after high school at Butler University in Indianapolis, IN. Pete finished his career as the most accurate 3 point shooter in Butler Basketball history (48.2%). He played in 5 NCAA tournament games, earning player of the game in 3 of the 5 contests.
Following college, Pete played professional basketball overseas for 6 years. The majority of that time was spent in Germany, but he also played in the NBA G-League, New Zealand, and Switzerland.
Following his playing career, Pete has spent 8 years training and coaching youth, high school, and AAU basketball.
Pete and his lovely wife Adriane reside in Noblesville, IN where they raise their two wonderful daughters Stella 4, and Saylor 2 months.
Check out our Youth Hoops Pod episode with Pete Campbell.
"5 Things I Learned Playing for Brad Stevens at Butler"
Follow PSB Indianapolis on Instagram!
Follow PSB Indianapolis on Facebook!
Pro Skills Miami will be led by Director Harrison Singer and will be located in the greater Miami areas!
Coach Harrison Singer has a wealth of coaching experience at both the high school and college level. He has spent the past eighteen years working at the college level at multiple DI, DII, DIII and NAIA colleges and universities. Coach Singer was born and raised in Philadelphia and spent the last three years working at St. Thomas University in Miami Florida, as the Head Coach for the Bobcats Men's Basketball Developmental Team and lead recruiter for the program. Singer recruited one of the strongest classes in STU MBB history, advancing to back to back championship games with the mentorship of standout DI transfers Ahmad Gilbert from the University of Minnesoda, Justin Brown from UNC Wilmington and Defensive Player Of The Year, Jahsim Floyd from St. Francis University. While at STU, Singer completed a Masters Degree in Sports Administration. Coach Singer currently resides in South Beach with his fiancée who works in Special Education and they love to bike, fish, tennis, hoops and cook together!!! Follow PSB Miami on Instagram!Follow PSB Miami on Facebook!
PSB Nashville will be led by Director, Malik Mims and General Manager, Cassi Whitworth.
Malik grew up in the Nashville area and played college basketball at Columbia State. After graduating, Malik moved back to Nashville and began coaching school and AAU basketball. In 2019, Malik joined PSB Nashville. He lives in Hendersonville with his wife and 2 daughters.
PSB New York will be led by Director Zach Kuba.
Zach Kuba grew up in Pittsburgh, PA and went on to play college basketball at New York University in NYC. After graduating from NYU with a BA in Economics, Kuba spent time on staff at IMG Basketball Academy (FL), UCLA, and Univ of the Pacific. Zach has also developed a Basketball Academy in China and worked with former Chinese Basketball Association Champions, Xinjiang Tigers. Zach then spent time on staff at Poly Prep (Brooklyn, NY) before becoming the Head Boys Varsity Basketball Coach at Hackley School in Tarrytown, NY. Zach and his wife and 3 kids currently reside in Elmsford, NY.
Pro Skills Orlando will be led by Director Sean Schekorra and will be located in the greater Orlando areas!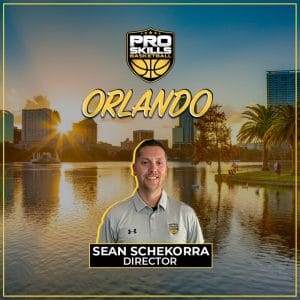 Sean attended Admiral Farragut Academy and Osceola High School in St. Petersburg, FL., where he was a standout athlete in Basketball, Football, and Track & Field. After High School, Sean went on to earn a Bachelor of Sports Science from the United States Sports Academy. Upon graduation from USSA, he continued his education at West Virginia University to earn a Master of Science in Sports Coaching and Georgetown University to earn a Master of Professional Studies in Sports Management.
Sean has extensive experience in coaching which stems from coaching High School Varsity Basketball at Admiral Farragut Academy and Post Graduate Basketball at Impact Basketball Academy in Sarasota, FL.
At Impact Basketball Academy, Sean was the Head Coach and Director of Player Development for the Men's Post Graduate Basketball Program. In addition, Sean helped train NBA Draftees at Impact Basketball's NBA Pre-Draft Combine and also facilitated on court workouts with numerous NBA and oversea basketball players.Sean and his family recently moved to Deltona, FL where he will continue to coach at a local basketball program. Follow PSB Orlando on Instagram!Follow PSB Orlando on Facebook!
PSB Philadelphia will be led by Director Jeff Vangorder.
Jeff grew up in New York and attended college at SUNY Cortland. After graduating Jeff started an AAU program and also began his college coaching career in the D3 ranks.
After stints at Hamilton College and Carnegie Mellon, Jeff joined the Ursinus staff in the Philadelphia area where he currently lives with his wife Laura.
PSB Raleigh will be led by Director JJ Miller.
JJ grew up in eastern North Carolina and went on to play basketball at NC A&T State University where he was an All-American player.
After college, JJ had a 15-year professional career throughout Europe and South America. JJ joined PSB in 2017 and currently lives in Rolesville, NC with his wife, Monica.
PSB Richmond will be led by Director Rasheed Wright.
Rasheed grew up in Greensboro, NC and went on to play college basketball at Old Dominion University, where he had a stellar career.
After college, Rasheed played for 12 years professionally in France before retiring and moving back to the Richmond, VA area. Rasheed joined PSB in 2019 and currently lives with his wife, Rebecca, and 4 daughters in Midlothian, VA.
Pro Skills San Diego will be led by Director Dan Decker and will be located in the greater San Diego areas!
Dan is a 1,000-point scorer at the high school and collegiate level. During his high school career, he was named All-Conference to the 3rd team of the Greater Middlesex Conference alongside current NBA players such as Karl Anthony-Towns.
As a college athlete Dan attended Clarks Summit University in Clarks Summit Pennsylvania. Dan was a two-time All-Region player for the NCCAA. He finished top five in 3-pt FG% in NCAA D3 during his freshman year finishing with a 48.6% percentage.
Dan graduated with a Bachelors degree in Early Childhood Education from Clarks Summit University and a Masters Degree in Business Leadership from Madonna University.
Dan has served as an Athletic Director of NYSPHSAA Basketball State Champions Mekeel Christian Academy in 2017-2018, and has served as an assistant coach for Conference Champions Madonna University in 2019-2020 prior to becoming a director for Pro Skills Basketball San Diego.
Check out our podcast episode with Dan below!
"Top 3 Skills Youth Players Should Work On with Dan Decker"Follow PSB San Diego on Instagram!Follow PSB San Diego on Facebook!
PSB Tampa will be led by Director Pierre Stines.
Pierre was a 3-year Varsity Player/starter in his local area of Danville, VA. at Dan River High School and George Washington High School. Pierre attended Clinton Junior College for 2 years before transferring to play for Johnson C Smith then finished his playing career at the University of Queens a year later.
Pierre went back to coach at his alma mater Clinton Junior College in 2008/09 while moving his way up on the corporate level at Allstate Insurance.
Originally from Sutherlin, Va. Pierre and his family currently reside in Tampa, FL. Married to Sydney Stines and has 3 Boys D'Angelo, Steffen, and Haile. Pierre's favorite times are spent with his family!
We are currently undergoing a leadership change in Winston-Salem, but we plan to have tryouts and teams in 2022. More information will be posted as soon as we have transitioned to a new City Director … stay tuned!
Conclusion
We can't wait for the 2022 AAU basketball season to begin, and we hope to see you at tryouts!
Reminder that many of the above cities currently have registration open for their tryouts. However, If tryouts are not yet available in your city, please continue to check back as they'll be available soon!
Register now to get our Early Bird Discount!
If you have any questions at all, please don't hesitate to email us at info@proskillsbasketball.com or call us at 866-966-3888!