Thank you for visiting the official website of Pro Skills Basketball (PSB) Philadelphia, Pennsylvania's professional AAU basketball club.
Our AAU basketball teams are instructed by experienced and knowledgeable coaches whose focus is the improvement of our individual players, not simply winning championships.
Our mission is to prepare players for the next level of their basketball careers while also teaching them life lessons that will lead to success off the court as well. We teach players skills for basketball, skills for life, skills for success.
PSB ALUMNI PLAYING COLLEGE BASKETBALL
We Love Helping Players Succeed
Comprehensive Development
• Team Practices & Games
• Camps & Clinics
• Optional Skill Workouts
• College Recruiting Guidance
• F.O.C.U.S. Life Skills
Trained & Certified Coaches
• Experienced & Knowledgeable
• Background Checked
• First Aid & Child Safety Trained
• PSB Trained & Certified
• USA Basketball Licensed
Organized Parent Communication
• Full-Time Support Staff
• Emails & Phone Calls Answered
• All Expectations Set Up Front
• Detailed Team Handbook
• Helpful Tech Tools & Platforms
• Fun
• Overcome
• Compete
• Unity
• Sacrifice
IMPORTANT: 2020 Policies & Procedures Handbook!
Our 2020 PSB Philadelphia Club Teams Policies & Procedures Handbook will be available soon and will contain ALL information related to our PSB Philadelphia Club Teams. Please read carefully through the entire handbook before signing up for tryouts. If you have further questions after reading, please call or email us!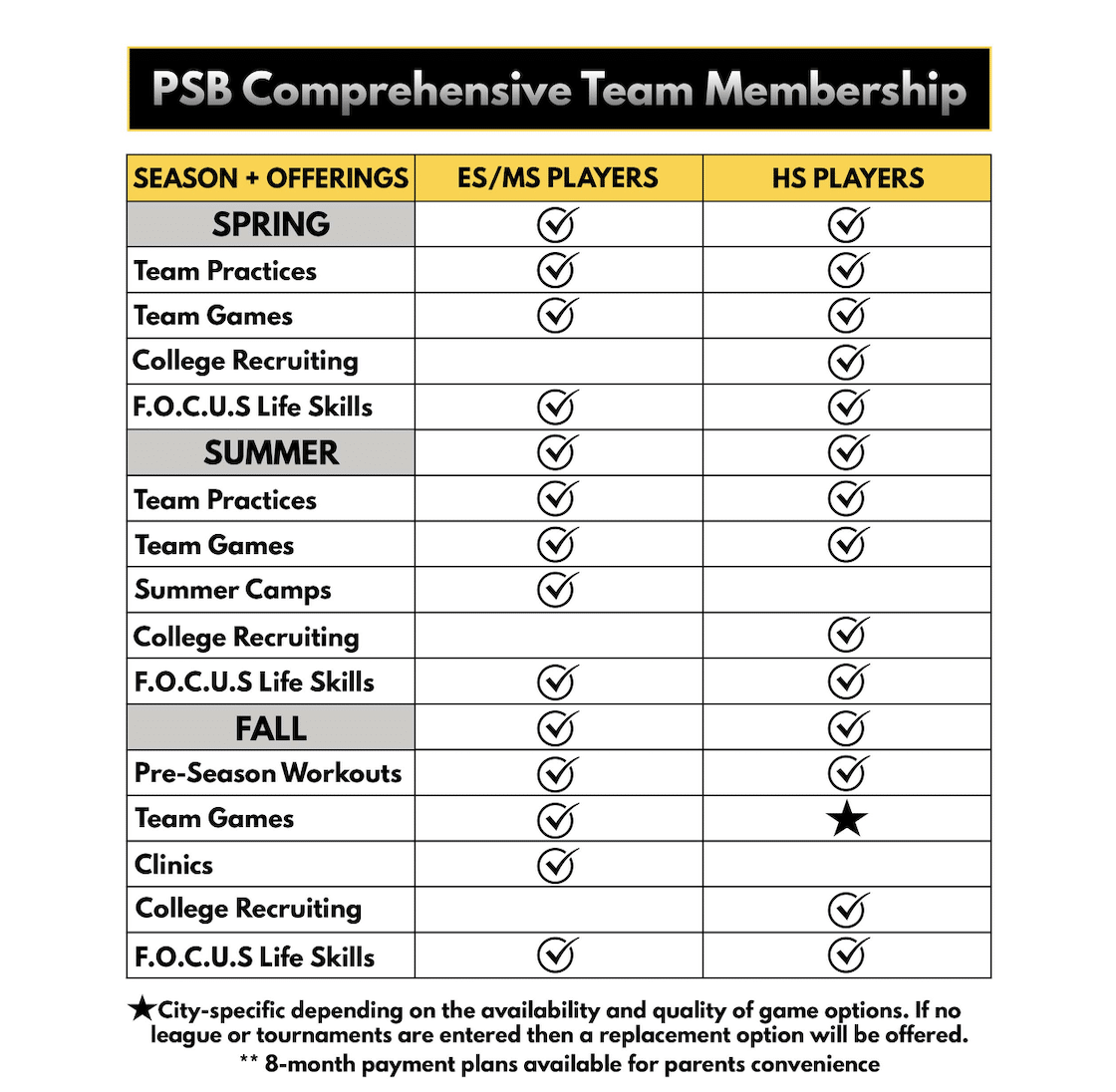 Sign Up Now for Upcoming Workouts & AAU Tryouts
NOTE: If no workouts or AAU tryouts are available, please check out one of our Camps or Clinics to join the PSB family today!
There are no upcoming events.
It is our policy to provide basketball opportunities to players regardless of financial circumstances. In order to provide players with these opportunities, we offer a limited amount of need-based financial assistance to youth participants meeting the guidelines listed here.
If you would like to apply for financial assistance, please fill out our financial aid form here and email or mail a copy of the official school lunch program letter. If your child does not attend a school that provides lunch, is homeschooled, or attends a school that provides lunch to everyone, please provide a copy of last year's 1040 form along with the number of people that reside in your household.
For any questions, please email us at info@proskillsbasketball.com or call us at 866-996-3888.